Cleanrooms maintain their 'clean' state, because the entry and exit points into that area are tightly controlled and safeguarded. The constant protection and regulation of people, products and processes must be guaranteed in Cleanrooms, in regulatory compliance with GMP, 21 CFR Part 11 or ISO 14644 regulations. Controlling access in these specialised environments is vital to the important work that goes on in Cleanrooms.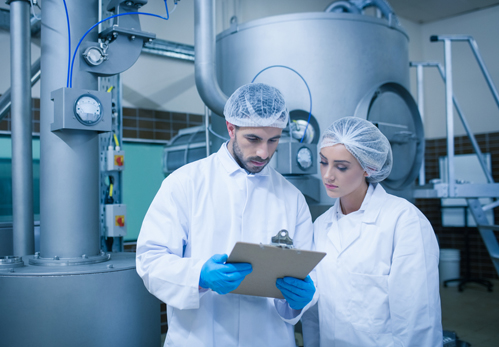 Intricate environmental controls and extremely low levels of particulates in the air are needed in Cleanrooms to avoid contamination. In maintaining Cleanrooms, the doors and framing materials used must possess adequate gaskets and seals to prevent the entry of contaminated air from entering or exiting that area. Also, the door hardware needs to be able to close and reseal itself after every passage.
There are a variety of additional access control devices and systems that assist limiting access to only authorised and cleared people. Card access systems, electric locks, traffic lights, station controls, and operations for the airlock in environmental conditions are some examples of access control systems that can be implemented in Cleanrooms.
Modular Cleanroom Benefits
Modular Construction

Quick Assembly Time

Versatility

Reconfiguration

Airflow Control

Inexpensive Modifications
Door Features For Access Control
Cleanrooms may utilise a combination of both locked and unlocked doors to enable greater security and isolation in access control. To regulate access and keep the Cleanroom properly sealed, several door vestibules must be constructed to ensure that only one door can be opened at a time.
Cleanroom Design, Build & Validation
Budgeting and planning

Engineering, design & layout

Airflow and filtration design

Construction and Installation

Full Certification of our product

Industry-specific equipment installation

Validation
Mandatory Airlock
A mandatory airlock would initially be accessed before gaining entry to the Cleanroom; this is composed of two doors that are interlocked electronically, so that both doors cannot be open at the same time. It can feature a two-door airlock with electric locks on the doors; this opens each door, causing the other to automatically lock. If several doors open at the same time, this makes it difficult to prevent potential contamination, due to the unsealed door. A timing delay might be needed to enable the re-pressurisation of the Cleanroom in some cases, coordinated with the HVAC contractor in the interlock.
There should also be a system that determines whether a door isn't fully shut. The other connected doors will not allow entry or exit until the door is closed. A door prop function can be utilised in this situation to monitor the length of the door's opening, so that if the duration passes a predetermined limit, an alert can be sounded to summon a supervisor.
Modular Cleanroom Services
During construction, the location of the interlocked doors must allow visibility for the other controlled doors. The doors will stay locked, with access given via a card or push button control, adjacent to the door, but within arm's reach of personnel. The hardware must enable doors to shut after entry or exit, with an emergency override button in each doorway that's connected to the fire alarm system. Traffic lights can control the entry and exit, with an indicator on an unlocked door turning red when locked and green when access is enabled.
Some Cleanrooms require regular wash-downs that make electrically sealed locks and actuating controls (maglocks) necessary. When a power failure occurs, even though the maglocks will deactivate, the doors will remain closed by the strikes and mechanical locksets.
Programmable Logic Controllers
Using Programmable Logic Controllers (PLC) also enables the access control systems of Cleanrooms to be customised to the required environment. Whether using two doors – or even up to 100 – multiple interlocks can be controlled from a single system. This interlock controller should interface with electronic maglocks, automatic doors openers, biometric readers, alarm sounders, safety mechanisms, internal fire alarm systems, and emergency shutdown systems. The PLCs are also able to control the minimum and maximum numbers of personnel in the area, as well as the duration of their stay.
Keyless Entry And Exit
Using keyless entry and exit requires an individual interface module, an exit button, magnetic lock, and power supply. The interface should be constructed into the control panel of the Cleanroom, next to the fan or filter unit controls and pressure gauges. All security systems should utilise a dedicated power supply, which is separated from the Cleanroom.
Cleanroom Industries/Sectors
Personnel Access Tracking
Personnel access tracking can be carried out by using software with a web-based application that automatically records user access data from entry to exit; this is recommended for access control. The recorded data will be accessible online, enabling security to run reports on traffic, configure security levels, and choose to enable or deny access to specific personnel. In high-security Cleanrooms, video surveillance can be utilised to monitor activity and supervision.