A Cleanroom is a containment area in which efforts are made to adjust the air treatment and filtration systems so that the environment inside the room prevents biological agents from causing contamination outside of the room. Pathological laboratories require Cleanrooms and associated controlled environments to be set up, in which we can control the concentration of airborne particles, as well as temperature, humidity and pressure.
Most pathology labs vary between ISO levels, depending on the specific research criteria of your organisation. Saakvee are leading builders of high-quality pathology laboratory Cleanrooms.
Our bespoke Cleanrooms create classified environments to protect processes from harmful airborne contamination, thereby reducing failure rates and helping organisations get it right first time. We can manufacture a Cleanroom of a few square metres to hundreds of square meters, which can be installed around existing machinery.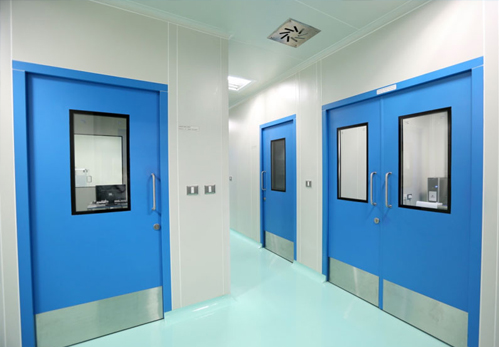 Whether it's a pathology laboratory, a contract research group or similar organisation, Saakvee has the Cleanroom solution ideal for your requirements. We have numerous Cleanroom options available, making it easy to create an ideal controlled environment in which to perform your research studies, experiments, analysis, clinical trials, and laboratory testing.
We offer modular Cleanroom solutions to accommodate requirements above and beyond the norm, as well as to meet your facility cleanliness standards. Our modular Cleanroom design means that you can grow your production area as demand increases. They are also less expensive than standard construction and can be installed, modified, and even relocated with minimal expense and downtime.
Modular Cleanroom Benefits
Modular Construction

Quick Assembly Time

Versatility

Reconfiguration

Airflow Control

Inexpensive Modifications
Why Pathology Laboratories Need Cleanrooms
Many laboratory activities can only take place within a Cleanroom. These Cleanrooms must meet regulatory requirements and international standards, such as ISO 14644. This standard specifies the air quality required for different Cleanroom classifications. At Saakvee, our Cleanroom designers determine the number of air changes, filters and the finish of the room required to achieve that air quality. Laboratories and cryogenic storage facilities must be compliant to a set of stringent rules and working conditions, which are only attainable in a Cleanroom.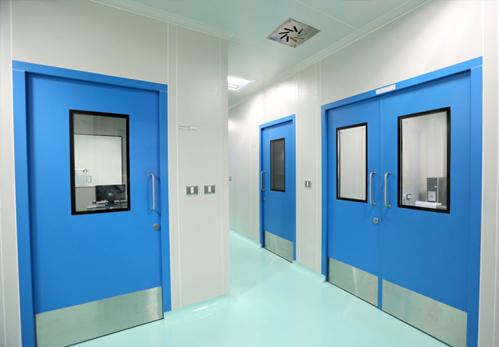 Our team of professionals at Saakvee can help you achieve compliance cost-effectively and can prevent costly re-work on areas that turn out to be non-compliant when designed by inexperienced architects and builders. Different corporations and non-profit or academic institutions require Cleanrooms designed specifically for laboratory or research facilities to avoid contaminations. Saakvee offers an integrated wall, floor and ceiling surface solution, perfectly suited to your needs.
Cleanroom Design, Build & Validation
Budgeting and planning

Engineering, design & layout

Airflow and filtration design

Construction and Installation

Full Certification of our product

Industry-specific equipment installation

Validation
Features Of Our Pathology Laboratories Cleanrooms
At Saakvee, we offer standard built seamless epoxy coated Cleanroom walls with coved flooring to handle more robust mop down wall cleaning or disinfectant procedures. Our flush fitting, factory installed windows and utilities enhance cleaning. Our prefabricated wall and deck systems are also designed to provide rapid, clean installation. Our pathology laboratories feature an aesthetic appearance and long-term flexibility to change as your process requirements evolve.
The load-bearing, double wall design, top deck panels and sealed negative pressure plenum assure optimum performance and longevity. Other key features of our pathology laboratories Cleanrooms include:
HEPA and ULPA filters ISO-4 to ISO-9 cleanliness levels
Air filtration system such as Fan filter units, standard and RSR
Lighting
Doors, Windows and entryways
Flooring
HVAC and fire suppression systems
Guard rails
UV-safe options
Temperature control
Humidity control
Monitoring systems
4-inch insulated walls
ACS2000 power saver, ACS3000 room monitoring system: T/RH/Air pressure
Air showers
GMP accredited
Low Power Consumption
Environmentally Friendly
Air filtration
Cleanroom ceiling system, including Ceiling grids and tiles
Access Control
Inter-lock door systems
Temperature control
Unidirectional Airflow
Horizontal flow wall modules
Horizontal laminar flow clean benches
Laminar flow cabinets
Laminar Flow Canopy
Modular Cleanroom Services
Basic Requirements For Pathology Laboratories Cleanrooms
All equipment used in a Cleanroom – as well as any other necessary materials – are designed to have low capability for environmental contamination. Only special buckets and mops are used in a Cleanroom. Common materials such as fabrics, pencils and paper produced from natural fibres are usually excluded and substitutes used.
Because of the strict environmental conditions required of a laboratory Cleanroom, Saakvee customises your laboratory Cleanroom to meet your exact requirements. We can incorporate gowning rooms, airlocks, air showers, material transfer enclosures, batch mixing areas, blending labs (and more) into the pathology laboratories Cleanroom structure to ensure a complete solution is provided. Our team of professionals will work with your staff to engineer something to your exact specifications.
We offer numerous wall finishes that cater to different lab and research needs. Our standard vinyl wall finish is easy to clean, non-shedding and ideal for most pathology laboratories Cleanrooms. We also offer an FRP (fiberglass reinforced plastic) finish, which provides excellent chemical resistance for sterile wipe downs. Our surface finishes are manufactured from rigid PVC and are easy to clean and impervious to water, chemicals and bio-hazardous materials.
Because all joints and junctures are heat welded to create one continuous monolithic surface, sterile wipe downs are easy to achieve and help ensure your Cleanroom meets or exceeds all industry standards and that your results are never compromised due to environmental contamination.
Some things to keep in mind for personnel and handlers in charge of pathology laboratory Cleanrooms include:
Proper attire and dressing anteroom
Regulating the storage of glassware and containers
Preventing or controlling the cutting, tearing or storage of cardboard, debris, etc.
Cleaning the room and production equipment per written procedure
Cleaning of work surfaces and chairs
Selecting correct furniture and eliminating all nonessential equipment
Controlling room air quality (number of particulates, pressure, velocity, and exchange rate)
Eliminating electrostatic charges by controlling work surface composition or grounding
Ensuring cleanliness of raw materials, components and tools
Controlling the purity, sterility, and non­pyrogenicity of process water
Maintaining profilers, HEPA filters, and electrostatic precipitators
Controlled use of – and entry into – controlled areas
Prohibiting eating, drinking, smoking or gum chewing
Preventing use of lead pencils
Why Choose Saakvee For Your Pathology Laboratory Cleanroom?
If you require an ultra-clean environment, we have the knowledge and expertise to deliver it. We can apply both off-site and on-site construction techniques to deliver a wide range of controlled clean air, containment environments and laboratories to a wide variety of industries.
We provide fully commissioned facilities, incorporating building services, internal finishes, supply and extract air filtration systems, as well as specialist equipment. Your laboratory Cleanroom will arrive fitted and pre-wired with all necessary accessories.
We offer bespoke, cost-effective solutions for every requirement – from environmentally controlled areas to containment suites for development, scale-up or manufacturing.
Our laboratory Cleanroom systems feature four-inch insulated walls, which provide a thermal barrier that improves the efficiency and performance of the mechanical system. Temperature levels are far easier to maintain than in non-insulated Cleanrooms, resulting in reduced energy costs.
Our team of professionals will work with your staff to ensure your daily goals for cleanliness and sanitisation are met and that protocols based on industry-standard practices are implemented for emergency situations. The integrity of your lab and safety of your workers are our top priorities.
Saakvee, we work directly with our clients to create custom Cleanrooms, ideal for performing laboratory testing. We are focused on providing a complete solution that meets all your requirements. Our experts can help you think through the components of your Cleanroom system, such as gowning rooms, air locks, air showers, material transfer enclosures, batch mixing areas, blending rooms, pass throughs and corridors to ensure an optimal design for your specific needs.
We offer a seamless finish for Cleanroom walls, floors and ceilings that cater to different lab and research needs. We specialise in manufacturing and installing Cleanroom surfaces that help to create the controlled environment you're looking for.
Our Cleanroom engineers and designers form part of a multidisciplinary team, experienced in product scale-up, facility design, containment, operations, product registration and validation. Our architects design your facility and we can work with your existing architect or general builder to impart our specialist Cleanroom expertise – as needed – for your next Cleanroom design and construction project.
At Saakvee, we have worked with research professionals in a variety of fields, including industrial laboratories and academic research facilities, and we are confident that we can create the perfect Cleanroom for your specific application. Our Cleanroom experts work closely with accreditation and licensing authorities, bringing industry-leading technical expertise, to all aspects of design and construction.
We can provide the required expertise and experience to design and build a laboratory and the accompanying Cleanroom that meets all regulatory requirements, as well as the process requirements of the laboratory.
Cleanroom Industries/Sectors
Contact Us For Your Pathology Laboratories Cleanroom
If you want to benefit from a state-of-the-art pathology Cleanroom featuring seamless wall, floor and ceiling panels, let us handle all the many details today. Our friendly, professional sales staff are just one call away from reducing the stress involved with your upcoming Cleanroom project.
Our proven expertise, CTCB-i certified engineers and ISO classified controlled environments are available to protect your critical processes and add value to your operations, regardless your industry sector.