A Cleanroom is a containment area with a controlled atmosphere, in which efforts are made to comply with the combined requirements of a controlled atmosphere and a containment area. It is a controlled manufacturing environment that has a low level of pollutants such as dust, airborne microbes, aerosol particles and chemical vapours.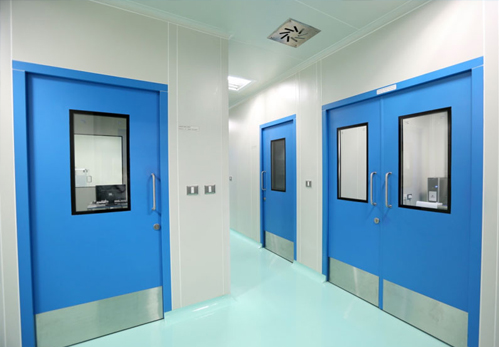 Cleanrooms are most commonly found in Microelectronics, Pharmaceutical, and Biotech applications. Increasingly, dairy manufacturers are turning to Cleanroom technology to control airborne contamination and increase product shelf-life. Contamination risk could be more effectively managed through more extensive use of Cleanroom technology.
Dairy manufacture Cleanrooms are less 'clean' than those found in microelectrics or sterile pharmaceutical applications. The requirements for dairy manufacture Cleanrooms vary, depending on the exact product being manufactured.
For example, within the dairy industry, Cleanroom requirements for fluid milk are generally less than those for yogurt or cultured milk, whereby bacterial activity is more intense. Saakvee is one of the leading Cleanroom manufacturers. With our top-notch inventory of Cleanrooms, we can offer you the highest quality Cleanroom technology at a competitive price. At Saakvee, we can provide comprehensive assistance in determining the right Cleanrooms for your dairy manufacture plant. With our expertise in the field of sterile environments – as well as our high technology manufacturing requirements – we are perfectly qualified to proffer advice on Cleanroom projects.
Modular Cleanroom Benefits
Modular Construction

Quick Assembly Time

Versatility

Reconfiguration

Airflow Control

Inexpensive Modifications
Why Dairy Manufacture Needs Cleanrooms
Dairy manufacturers usually consider Cleanroom technology, as they are concerned with the spread of bacteria, yeasts and moulds that can grow in the moist conditions of process areas and are carried by air currents throughout the dairy manufacture plant. The aim of the dairy manufacture Cleanroom is to keep the air in the immediate vicinity of the dairy products being processed free from such microbial contaminants.
This leads to a reduction – and in some cases, elimination – of the need for pasteurisation or flash freezing process stages, ultimately leading to a better, fresher dairy product. Process steps (in which an air exchange with the unclean, germ contaminated environment cannot be prevented) lead to:
Germ contamination of the dairy products
Limitation of shelf life
Reduced freshness
Wastage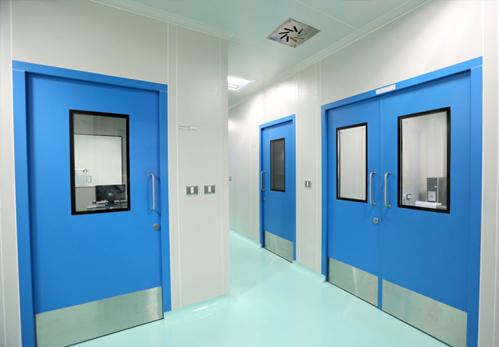 Amongst the several trends driving the increased use of Cleanrooms in dairy manufacture, dietary concerns and fears about general food quality lead the way. There's been an increase in the preference fresh food consumption, which has made many dairy manufacturers stay away from the use of additives and preservatives.
Foods that undergo some type of treatment which alters their normal complement of microorganisms (such as yogurt, cheeses and other dairy products, flavoured milks and entrees) are especially vulnerable to colonisation by environmental microorganisms. Because of this, aseptic processing is frequently used for the filling or processing of yogurt, sterile milk or soft cheese. Dairy manufacture and milk manufacturing facilities try to comply with the strict regulatory legislation for production and food safety and quality. Processing and production facilities must therefore be of the highest standard.
Saakvee offers a comprehensive Cleanroom service to the dairy and milk manufacturing industry for the integrated design, construction, validation and maintenance of hygienic, sterile processing environments, as well as processing and manufacturing facilities.
Cleanroom Design, Build & Validation
Budgeting and planning

Engineering, design & layout

Airflow and filtration design

Construction and Installation

Full Certification of our product

Industry-specific equipment installation

Validation
Contamination Control For Dairy Manufacture Cleanrooms
Strict requirements for maintaining a clean environment are upheld when it comes to products that are consumed by humans; because of this, specific standards are set and regulated by governments across the world.
As with other process sectors, the dairy industry relies on the construction and operation of high-value and complex processing manufacturing plants. Dairy manufacture Cleanrooms require particular focus in processing and contamination control. When it comes to Cleanrooms, the dairy sector is similar to both the pharmaceuticals and biotech sectors.
Contaminated dairy products can cause illness or death. Also, the cost of recalling a product due to contamination is significant. Because of this, there is a need for effective measures to combat contamination risk. This has led to the diary sector embracing the use of Cleanroom processing and contamination control.
The International Standards Organisation (ISO) rank Cleanrooms in 'classes' from Class 1 through to 9, with the lowest number being the most meticulously clean environment possible. To meet these standards, Cleanrooms are deployed to severely limit the amount of contamination, such as dirt and dust in the atmosphere.
When handling dairy products, it is not enough to simply manufacture them in a Cleanroom. Their packages and containers are also compounded, extruded and moulded in a Cleanroom environment to ensure maximum cleanliness and purity.
Modular Cleanroom Services
Airflow Principles In Dairy Manufacture Cleanrooms
When classifying a Cleanroom, particle counts are performed at the work surface height. To ensure the Cleanroom meets the required standard, pre-filters are used to remove any dirt and dust the human eye can see, whilst HEPA filters capture the minuscule particles that cannot be seen. Environmental parameters such as temperature, humidity and pressure are carefully controlled with air delivered to the Cleanroom through HEPA filters.
To keep contaminants from entering the room in the first place, a pressurised environment is created by introducing air at ceiling level, after passing through a fan-powered HEPA filter. This creates an air pressure that's greater than that outside the Cleanroom, which in turn pushes contaminants down towards the floor, and then out of the Cleanroom through vents in the lower portions of the walls.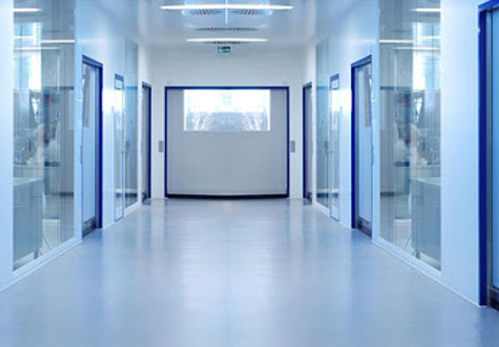 The cleanliness level of Cleanrooms are usually quantified at a predetermined measure of molecule per cubic metre. There are 35,000,000 particles present per cubic metre in the ambient outdoor air of a typical city environment in the size area of 0.5 micron and bigger in diameter, comparable to an ISO 9 Cleanroom. In contrast, there are no particles allowed in that size range in an ISO 1 Cleanroom, whereas in a range of 0.3μm and smaller, there are only 12 particles per cubic size.
At Saakvee, we design our process flow in a lean and efficient sequence, so that materials enter the Cleanroom in one end and exit the other, with all necessary manufacture, assembly and packaging completed within the controlled environment before it leaves.
Factors To Be Considered In Dairy Manufacture Cleanrooms
Dairy manufacture Cleanrooms are essential to providing a secure environment in which dairy products are processed. They are used to prevent any particulate contamination during dairy processing, and to ensure the highest level of quality and safety in all dairy products. Considerations that pertain to dairy manufacture Cleanrooms include:
Contaminant Levels
A hygienic design refers to the design of machinery and components that are easy to clean and maintain hygienic conditions for use in areas where hygiene is a priority. The aim is to prevent design deficiencies that promote hygiene-related hazards or the risk of infection.
It is important to ensure the chamber itself is void of any corrosion or condensation in order to keep contamination levels at the barest minimum. Cleanrooms keep the air in the immediate vicinity (of the dairy product being processed) free from such microbial contaminants.
Pressure
Pressures must also be kept static and over the atmospheric pressure in order to prevent infiltration into the room. New air inputs must be balanced along with the release of air from the room to keep the pressure value maintained. Also, keeping the temperature and humidity levels under control is extremely important in maintaining the quality and integrity of the dairy products.
Air Filtration
Dairy manufacture Cleanrooms must be very sterile environments; as such, they require a high level of air quality. Particulate and molecular contamination control is crucial, as even the tiniest micron of dust or gas molecules can cause extreme damage. Cleanrooms control air filtration, which in turn decreases the risk of any contamination or interference with the processing of dairy and dairy products.
At Saakvee, our Cleanroom specialists will create and design an air filtration system with premium HEPA filters and effective air filtration systems to ensure your Cleanroom operates with the most advanced equipment available in the industry.
We also encourage that Cleanroom clothing is always worn by dairy manufacture personnel, including a hair covering, smock and boots. A separate area is provided for gowning, whilst interior isolation is also enforced to prevent any chance of cross-contamination with the all-important end product.
Cleanroom Industries/Sectors
Saakvee For A Guaranteed Secure Environment For Your Critical Processes
Installing a dairy manufacture Cleanroom is a worthwhile and necessary investment, which has to be undertaken correctly from the start to ensure significant repairs won't be needed once the controlled environment is in operation.
At Saakvee, your contamination control requirements are our priority. Our services are ISO 14001, ISO 9001 and OHSAS 18001 accredited. Upon your request, our experienced CTCB certified engineers and ISO classified controlled environments can be provided to your facility to protect critical processes and add value to your operations. We deliver on time and budget at very competitive prices.