A cleanroom that is flexible and mobile can be highly beneficial to an organisation in the defence sector. Saakvee can deliver down flow cabinets or a fully operational cleanroom with lab or test capabilities. Our modular cleanrooms come highly recommended for those in the defence sector because of their customised dimensions and adaptability which make them almost limitless in terms of application potential.
By choosing a cleanroom from Saakvee, you place your defence organisation in a better position to develop its expertise and excel in its unique field. Our team of cleanroom experts possess years of diverse experience in the defence sector and are more than capable of helping you optimise your critical processes, set yourself apart from competitors and attain long term goals. All our products and services satisfy international requirements and standards. Each is ISO-certified and can be readily personalised to suit the unique demands and requirements of your company.
Contact us today for a customised cleanroom solution that combines innovation and breakthrough technologies which will distinguish your organisation.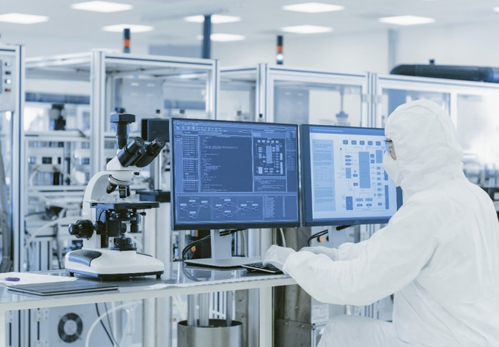 Modular Cleanroom Benefits
Modular Construction

Quick Assembly Time

Versatility

Reconfiguration

Airflow Control

Inexpensive Modifications
Cleanroom Types Available For Your Defence Organisation
The purpose of the cleanroom will vary from organisation to organisation. In the defence industry, they are typically required for:
Service and maintenance of submarine periscope

Manufacturing optics

Thin film deposition, vacuum coating

Radar system sub assembly
Irrespective of your goals are for your cleanroom, we can provide you with one or several that satisfy all your requirements.
Our cleanrooms are designed and built to effectively control particulates that may negatively impact critical processes in your secured environment. Cleanroom types we have installed for defence companies include Hardwall Cleanrooms, Modular Cleanrooms, Monobloc Cleanrooms, and Softwall Cleanrooms.
Our modular cleanrooms are especially popular because of their flexibility and effectiveness, as well as the following benefits:
Cleanroom Design, Build & Validation
Budgeting and planning

Engineering, design & layout

Airflow and filtration design

Construction and Installation

Full Certification of our product

Industry-specific equipment installation

Validation
Quick Installation
If you need a cleanroom that guarantees energy and cost efficiency and can be installed fast, our modular cleanrooms may be the solution. Depending on the size and your special requirements, we can have a personalised modular cleanroom installed for you within a few hours or days. The speed of installation will not compromise the quality of the installation or safety of your critical processes.
Low Running Costs
Our modular cleanroom are a cost effective option that's less expensive to install and also less costly to run. The low cost of running a modular cleanroom can be attributed to the fact that this type of secure environment requires less energy to run, and keep the cleanroom and the processes within it stable.
Easy To Maintain
Modular cleanrooms are easier to maintain. Ease of maintenance is evident in easily replaceable parts, cost effectiveness and adaptability of the structure. As the needs of your critical processes evolve, we can modify the cleanroom to match the changes by providing accessories and consumables that keep the secure environment tightly controlled.
Effective Performance
A modular cleanroom with a tailored design will positively impact your critical processes and needs. We can fit your installed modular cleanroom with High Efficiency Particulate Air (HEPA) filters or Ultra Low Particulate Air (ULPA) filters that effectively extricate particulates from the air of your secured environment to ensure your defence processes stay contamination free.
The ideal cleanroom for your organisation's needs will depend on the unique nature of your operations. To ensure you obtain the best results, we provide cleanrooms tailored to your unique needs and requirements. This is accomplished by first understanding your critical processes, organisation goals and your budget in order to provide you with a secure environment with optimum results.
Modular Cleanroom Services
Cleanroom Services To Optimise Critical Defence Processes
Defence cleanroom services we provide include:
Design and Building of cleanroom

Free Site Survey

Cleanroom Training and Support

Remedial Works

Cleanroom Certification and Validation

Smoke Testing and DOP testing
Cleanroom Design And Build
All our cleanroom designs are ISO classified and are designed to protect your critical defence processes. If you are uncertain as to which cleanroom type will make the perfect fit for your defence needs, we provide a team of experts to give professional guidance which will enable you to make a well-informed decision.
Irrespective of your defence needs or processes, we can provide you with a comprehensively secured and highly efficient cleanroom design which will optimise your performance. We will work with you through the design stage all the way to the building and effective use of your cleanroom. This guarantees that you achieve the desired results and a favourable ROI.
Cleanroom Industries/Sectors
Cleanroom Training
We offer comprehensive training, as well as personalised courses. Training is generally divided into theory and hands-on practical sessions, and topics covered by our training course include hand hygiene, gowning and cleaning best practices, particulate monitoring, contamination sources and consequences of failing to adhere to best practices.
Those with access to your cleanroom are most likely to cause contamination breaches due to particulates that they bring in with them, or even simple negligence. To help minimise the occurrence of this, we can provide your team with the training and the necessary resources to educate them on cleanroom best practices and effective implementation of protocols.
Upon conclusion of our training, we will provide a certificate of attendance and your staff will be more informed on cleanroom use. They will also be more committed towards minimising contamination risks that can negatively impact your critical processes.
Saakvee For Your Defence Cleanroom Needs
At Saakvee, our experienced Validation Technicians are all CTCB-i trained and qualified to deliver the best results to our clients in the defence industry. We are ISO 9001:2015, ISO 14001:2015, and OHSAS 18001:2007 accredited, which means we are certified to help you achieve optimum working conditions in your cleanroom.
Our premium services are all available at reasonable prices and you can contact us for a fully-fitted and customised defence cleanroom. We can also help with optimising your already existing defence cleanroom.