Saakvee Technologies India Pvt. Ltd. is a  cleanroom provider that uses the most innovative technology to help you overcome any contamination control challenges. We are cleanroom specialists who will work with you throughout, from conception to validation.
With extensive knowledge on the entire cleanroom development process, we help organisations implement their cleanroom on time and within budget. We deliver modular softwall cleanrooms, modular hardwall cleanrooms and portable cleanrooms to clients across a range of industries.
Some of the industries we serve include biotechnology, pharmaceuticals, aerospace, research, universities and medical device manufacturing. All cleanrooms that we design and construct are fully customisable and made to fit your specific requirements.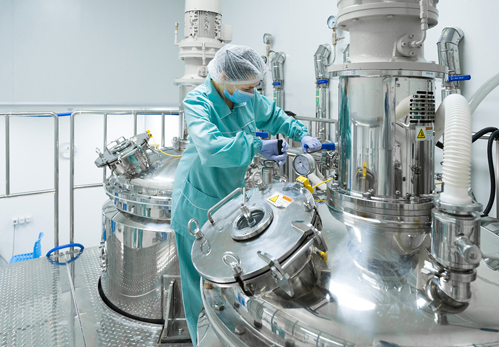 Modular Cleanroom Benefits
Modular Construction

Quick Assembly Time

Versatility

Reconfiguration

Airflow Control

Inexpensive Modifications
Considerations For Designing And Building A Cleanroom
Cleanroom Classification
The first thing we factor in when designing a cleanroom is the required cleanliness classification. The International Standard Organisation (ISO) serves as the standard benchmark for cleanroom cleanliness levels.
This standard is measured by the number of particles per cubic metre of air and maintained by air changes, as well as a specified airflow velocity per hour. More fan filter units (FFU) will be factored in for cleanrooms with very stringent requirements, such as those in the microelectronics and pharmaceutical industries.
Cleanroom Design, Build & Validation
Budgeting and planning

Airflow and filtration design

Full Certification of our product

Validation

Engineering, design & layout

Construction and Installation

Industry-specific equipment installation
Airflow Design Patterns
The cleanroom will be purified with a High-Efficiency Particulate Air (HEPA) filter, capable of removing 99.97% of contaminants from the cleanroom. Some cleanrooms might require an Ultra Low Particulate Air (ULPA) filter; these can remove 99.999% of contaminants from the cleanroom.
Design options include:
Single-pass design: Filters ambient air into the cleanroom and exits through the surrounding building space. They are used in cleanroom environments where humidity control and temperature control are not required.
Recirculating air design: The air is conditioned by Air Handling Units (AHUs). It enters through the ceiling plenum and exits through low wall returns. They are used in cleanrooms that require humidity control and temperature control.
Required Operating Conditions
HVAC design in the cleanroom is primarily determined by the ISO classification, but also the required humidity, temperature and pressure differential. These conditions determine the application of the cleanroom and comfort of cleanroom personnel. Other important factors in the HVAC design include the relative humidity and temperature precision.
The air conditioning compensates the heat generated by equipment and cleanroom personnel. Hence, the cleanroom will be designed with the amount of equipment, number of personnel and heat generated (in watts) in mind.
Modular Cleanroom Services
Space
Things we consider here include:
Floor columns

Height below the trusses

Accessibility of the available space

Type of existing floor

The temperature and humidity control

Type of power available

Available ceiling height

Type of gowning area needed

The need for internal support pillars or external bracing (applies to large modular cleanrooms)
Cleanroom Application
The processes that will be completed inside and outside the cleanroom will also be considered during the design stage. The number of personnel in the cleanroom, frequency of movement, garbing protocol and amount of equipment will also influence cleanroom design.
Larger cleanrooms are needed if more processes are completed (inside the cleanroom). Also, more filters and HVAC will be necessary – all of which makes the project more expensive.
Other cleanroom design considerations include:
Type of cleanroom: hardwall, softwall or fixed wall

Security: installing CCTV inside the cleanroom and providing electronic access

Compatibility of surface finishes

Type of viewing windows

Location of the change rooms

Type of cleanroom lighting

Future growth plans

Budget
Our Cleanroom Design Process
Evaluate The Layout
Our cleanroom designers evaluate the flow of material and people inside the cleanroom. Humans are the major source of cleanroom contamination. Subsequently, all critical processes should be isolated from personnel pathways and doors.
To prevent the area from being a pathway to less critical spaces, the critical spaces should have single access. Industries where processes are susceptible to cross-contamination should be evaluated for contamination, raw material inflow route, finished product outflow routes, material process isolation and containment.
The layout should support the process in the cleanroom. Other shapes could be incorporated besides the usual rectangular shape, as long it pays attention to airflow patterns. The layout should also maintain pressure differentials, cleanliness class and humidity/temperature conditions by excluding non-clean operations and isolating critical spaces.
Determine Space Pressurisation
In relation to a dirtier cleanroom space, maintaining positive air space pressure is essential to prevent contamination in the cleanroom. Consistency is difficult when it has a negative or neutral space pressurisation.
Various studies settled for a pressure differential of 0.03-0.05 in w.g. as effective for minimising contamination infiltration. Higher space pressure differentials are more difficult to control and have a higher energy cost.
Anteroom Or Airlocks
This is the room between a clean environment and a 'dirty' area. The room maintains pressure differentials between spaces of different classification. The airlock also serves as a gowning area. It could be designed as a material or equipment airlock, where packing materials are removed or equipment/materials are cleaned before use in the cleanroom.
Other steps include:
Determine space cleanliness classification

Determine space supply airflow

Determine space air exfiltration flow

Determine space air balance

Assess all remaining variables

Determine mechanical system layout

Perform heating/cooling calculations
Cleanroom Industries/Sectors
Cleanroom Construction
The construction process will proceed smoothly if you don't attempt to take it on yourself. It's important to work with a cleanroom company such as Saakvee Technologies India Pvt. Ltd. during this phase.
The first phase of the construction process is where most of the work takes place. Standard personal protective equipment such as safety glass, vests or hard hats will be used by all workers, although there are no material restrictions. This is a stage during which we complete drywall work if building a hardwall cleanroom. We also pay attention to welding piping such as water for injection piping (WIP) and install HVACs, filters, furniture and equipment in the cleanroom.
The next stage involves the use of vacuums for clearing debris and dirt from the cleanroom area. It is the during this phase that we conduct a particle count.
In the third phase, we set up the airlock for entry and exit into the cleanroom and limit access.
Once construction is complete, we move to the commissioning phase, where all utilities, equipment and the facility in general are tested to ensure they meet functional specification, design specification and user requirements.
Contact Saakvee Technologies India Pvt. Ltd. Today For An Innovative Cleanroom Design And Build
Cleanrooms are only efficient and perform at their best when properly designed and built. We have a highly skilled team of in-house specialists who will see your project through to completion, without complications.