The key to achieving maximum efficiency and optimal safety in your cleanroom is having a solid preventive maintenance programme in place. However, in the event a part of your cleanroom finally fails, Saakvee Technologies are available to provide the necessary remedial services.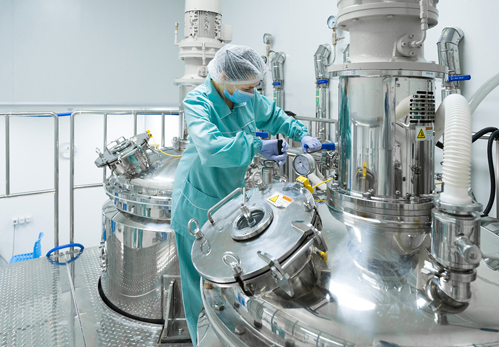 Over time, your cleanroom is bound to experience faults or other instances of deterioration. Thankfully, we can help rectify this through our remedial services. Our highly skilled engineers will get to work immediately, repairing any faulty aspects of your cleanroom, whilst delivering top-notch and durable solutions on the first try.
Our remedial works cover various aspects of the cleanroom, including floors, walls, filtration systems, cabinets, lighting, ceiling, building management systems, HVAC systems or any other part of your cleanroom that may be in need of repair. We can also provide remedial services without interrupting your workflow, thus minimising downtime.
Modular Cleanroom Benefits
Modular Construction

Quick Assembly Time

Versatility

Reconfiguration

Airflow Control

Inexpensive Modifications
Remedial Works From Saakvee Technologies
It is essential that environmental pollutants in a cleanroom be kept at a minimum. Said pollutants may include biological or chemical contaminants, or otherwise, that are airborne or present on surfaces. The level of allowable contaminants in a cleanroom will depend on the class of cleanroom you are aiming for.
To help keep your cleanroom's cleanliness at the desired level, we offer remedial services that are reliable and capable of maintaining or optimising the status of your cleanroom. Our remedial services also greatly minimise any potential risks for your personnel and processes. Some of our remedial works include:
Opting for a bespoke cleanroom design from Saakvee Technologies guarantees maximum control over your environmental parameters and processes, as well as a favourable ROI. We have a variety of smart cleanrooms to choose from, which feature innovative technologies, including personalised modular cleanrooms to help overcome contamination control challenges.
Cleanroom Design, Build & Validation
Budgeting and planning

Airflow and filtration design

Full Certification of our product

Validation

Engineering, design & layout

Construction and Installation

Industry-specific equipment installation
Cleanroom Decontamination
Our cleanroom decontamination service is effective against various viral and fungal agents. We can apply this service to a wide variety of surfaces typically found in a cleanroom, including glass and stainless steel.
Our decontamination services are also available for cleaning equipment and various modes of transportation. If any of the following items are used in relation to your cleanroom, contact us for decontamination in the event of a breach:
Containment Laboratories
Freeze Dryers
Isolators and Incubators
Food Production Facilities
Materials Transfer Devices
Robotic Enclosures
Safety Cabinets
We can be contacted for our decontamination service via a contract agreement or on an ad hoc basis; it all depends on your unique requirements.
We utilise state of the art equipment to provide personalised solutions that deliver superior results on the first try. We also strive to make use of environmentally friendly solutions, where possible. Our strict testing procedures and experienced personnel are key components in eradicating possible threats to your cleanroom productivity. By applying our specialised cleanroom cleaning chemicals/equipment and scientific testing procedures, we will reduce your cleanroom contaminants and optimise your facility's overall productivity.
Our Cleanroom decontamination services are available for emergency remedial needs, as well as routine maintenance purposes. We guarantee the process and its results will be fully documented and a report provided for your records and validation purposes to verify compliance.
Contact us today for fast decontamination cycles to reduce downtime and minimise your operating costs.
Modular Cleanroom Services
HEPA And ULPA Filter Repair
HEPA (high-efficiency particulate air) filters can filter out 99.99% of particles 0.3µm or larger. When maintained properly and in the right environment, these filters can last for seven years or more before they need to be replaced.
ULPA (Ultra-Low Particulate Air) filters function in a similar fashion to HEPA filters, but are even more efficient. Specifically, ULPA filters are rated to remove 99.999% of all contaminants larger than 0.12µm in diameter. Since ULPA filters function similarly to HEPA filters, the maintenance and replacement processes are also similar.
Since every factor in your cleanroom affect filters differently, it's hard to give a specific timeframe for HEPA or ULPA filter replacement. The temperature, humidity and air pressure levels all factor in to your filter's lifespan. However, in the event your ULPA or HEPA filter breaks down, we can provide remedial services to help restore its functionality. We run tests to ensure the filters are working efficiently; if during the test, the filter is found to be below specified efficiency standards, Saakvee Technologies engineers are available to repair or replace the filter on site.
With our effective project management services, you are guaranteed to fully harness the potential benefits of your cleanroom and minimise any costly errors.
Panel Repairs
Generally, panel walls in a cleanroom make for easy installation and maintenance. In the event a single panel or multiple panels are damaged, only those damaged need to be repaired or replaced. This takes away the need for extensive repair work and minimises costs and the risk of contamination.
Cleanroom wall panels also ensure flexibility in terms of the shape and size of a cleanroom's design. This is because panels are available in a variety of styles and sizes, and can be installed in a configuration that best suits your needs.
Our experienced team of professionals possess the specialist skills and tools to perform panel wall replacement and repair to suit your unique cleanroom requirements. Our focus is on delivering services of the highest standards, which eliminate the need for repeat repairs.
We have years of experience in cleanroom panel replacement and repair services , some of which were delivered in challenging circumstances. Before starting on your panel reparation and restoration project, we will first thoroughly survey and evaluate your site to develop the most suitable solutions to uphold the relevant health and safety standards.
Cleanroom Industries/Sectors
Contact Us For Cleanroom Remedial Works Today
Saakvee Technologies can provide remedial and certified services to make sure your cleanroom meets the relevant international and industry standards.
We will perform airflow volume tests, filter leak tests, viable contamination testing, directional air flow survey, particle count, room pressurisation, and any other tests necessary to verify the optimal performance and cleanliness of your cleanroom