In order to develop your expertise in the food industry, you need to follow best practices for hygiene. This would mean investing in cleanrooms that can guarantee the best possible hygiene and safety. During food manufacturing processes, high contaminant particles are released and this mandates the maintenance of a clean environment.
Maintenance doesn't end with the installation of a cleanroom, as the environment cleanliness will have to be maintained by operating staff. At Saakvee, we use materials that are easy to clean, and for protection against splashing liquids as expected in our food processing plants, we also fortify any HEPA filters we install.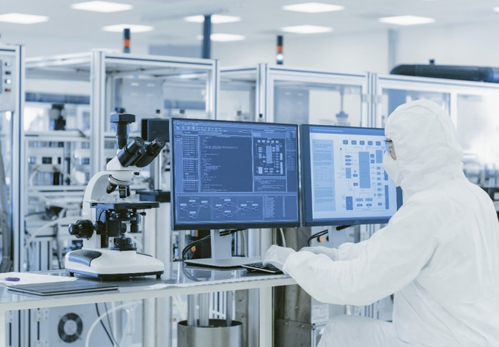 Modular Cleanroom Benefits
Modular Construction

Quick Assembly Time

Versatility

Reconfiguration

Airflow Control

Inexpensive Modifications
Cleanrooms In Food Processing Plants
As with a number of other industries, clean environments without airborne particulates and pollutants are critical. By keeping airborne particles to a specified PPC (particles per cubic metre), food processing cleanrooms are able to maintain a set environment with a constant ISO grade.
The complex and growing food processing industry requires cleanrooms that can meet your needs by significantly limiting particulate contamination. We use HEPA filters because we understand that it is vital to keep the air within the cleanroom free of pollutants. Another option available for use in food processing plants is ULPA filters which are better for filtering out smaller particulates.
Cleanroom Design, Build & Validation
Budgeting and planning

Engineering, design & layout

Airflow and filtration design

Construction and Installation

Full Certification of our product

Industry-specific equipment installation

Validation
Food Processing Cleanrooms And Personnel
Personnel who work in the food processing industry must have proper training of contamination control theory. Working in a cleanroom environment requires knowledge of how to do their job without unnecessarily exposing food to contaminants. Specialised gowning and clothing procedures, as well as airlocks play a crucial role in limiting particulate contamination and ensuring that a food processing cleanroom remains sterile.
The ISO of a cleanroom will determine whether workers will need to wear a fully encapsulated suit or simple lab coats and hairnets. Usually, a food processing cleanroom would have a standard list of clothing which can include facemasks, shoes, shoe covers, frocks, hoods, gowns, beard covers, bouffant caps, gloves, aprons and boots. Every member of the team would have to dress according to the cleanroom's ISO grade and the specific job they are required to perform.
Modular Cleanroom Services
Our Food Manufacturing Cleanroom Process
For every cleanroom project we manage, we always start with a plan and a budget. Depending on what you have in mind, we'll agree on a budget that is ideal for your cleanroom project. Once we have come to an agreement, we'll proceed with design, layout and engineering.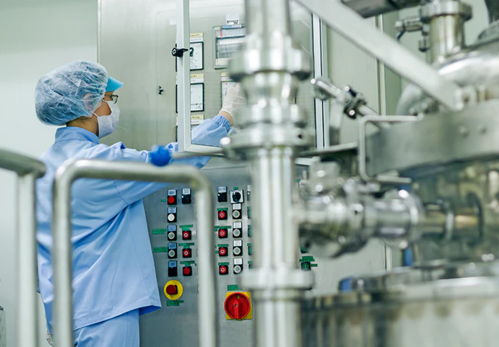 This stage is critical for ensuring you get a cleanroom that's tailored to your needs. Next comes design of the airflow and filtration systems, which are essential for keeping a cleanroom sterile. Once the designs have been approved, we'll proceed with construction and installation. You can have our product certified by a third party if you wish, after which we will proceed to install your equipment. Saakvee will ensure reliability and durability with your cleanroom project.
Food Processing Plants And Saakvee
At Saakvee, we provide the best possible cleanrooms for the food processing industry, and have a track record of industry experience, quality and reliability. From design to installation, we manage every project.
This allows us to deliver high quality cleanrooms at competitive prices. To ensure you get the best, we deliver only the latest in cleanroom technology, from quiet air fans and engineer grade aluminium to LED integrated lights and dynamic system monitoring.
Cleanrooms Peculiar To The Food Industry
Cleanrooms in the food industry tend to have frames of stainless steel which may be combined with soft walls or hard walls. In some cases, the ceilings may be made of stainless steel, with food grade compatible lighting installed. The most common ISO classes used are 5 to 7 as prescribed by the international cleanroom standard IS014644-1.
If you wish, we can have your cleanroom suspended from the ceiling, alternatively, we can construct a simple and compact mobile version for filling or packing lines or mobile applications.
There are a number of processes typically found in the food industry, and these include:
Protection of mushroom spawn strains from contamination.

Protection of liquid product filling, such as liquid egg used for baking.

Bottling lines.

Manufacturing vegetable and fruit lines.
There is greater emphasis on the consumption of fresh foods and the general quality of food due to dietary concerns. Likewise, more people now prefer to stay away from preservatives and additives. These factors, amongst others, are responsible for the increased demand for cleanrooms in food processing plants.
At Saakvee, we understand the trends in the food processing industry, and the role of cleanrooms in ensuring that food manufacturers can meet the demands of consumers. Environmental microorganisms are more likely to colonise foods that are put through some type of treatment that affects their natural complement of microorganisms. Foods such as entrées, flavoured milks, juices, and dairy products such as cheeses and yogurt are particularly vulnerable.
Growing mushrooms in a cleanroom prevents opportunistic spores from overgrowing. Saakvee is a cleanrooms provider who understands your industry and will provide you with exactly what you need.
Cleanroom Technology For Commercial And Institution Kitchens
In institutions and commercial outfits where large numbers of meals are prepared, using cleanroom technology is beneficial. This would include, for example, a kitchen where thousands of meals are prepared for school children or prisoners. Such a cleanroom may benefit from an ISO class 5 cleanroom installed alongside much-needed refrigeration and heating.
Cleanroom Technology For Breweries
Over time, it has become obvious to brewery operators that controlling contamination is essential for protecting their draft beers. The environment surrounding the filling operation needs to be sterile and free from contaminants, and breweries are now moving towards installing cleanrooms with perforated floors and HEPA filters in the ceilings.
Class 5 and 6 cleanrooms allow for aseptic filling for soft drinks, juices and beer. With the traditional system of tunnel type pasteurization, the product is subjected to very high temperatures. Aseptic filling, however, allows for controlled pasteurization and lower thermal punishment. The organoleptic characteristics of beer such as the freshness and aroma profile will be improved, and the shelf life is also increased due to greater product stability.
Cleanroom Industries/Sectors
Cleanrooms For Meat Processing
Meat is particularly vulnerable to foodborne bacteria, some of which are potentially fatal. In particular, Listeria monocytogenes can cause meningoencephalitis, meningitis or blood poisoning, all of which can be fatal.  With more ready-to-eat meats available on the market, the demand for cleanroom technology has significantly increased. Let us help you stay ahead of your peers by designing and installing cleanrooms which will ensure the safety of your products.
Clean Room Technology In Bakeries
More bakeries are beginning to incorporate cleanroom technology, as cleanrooms are useful for the production of different types of breads, confectionaries, noodles, and so on. With new, increasingly complex and decorative confectionery products being produced, the confectionary industry is increasingly making use of biological cleanrooms. These products require controlled environments to keep the bacteria levels, humidity and temperature at specified levels. In addition to process automation, these help to ensure better durability and quality of the products.
How Much Do Food Manufacture Cleanrooms Cost?
The cost of a cleanroom for a food manufacturing outfit will depend on the cleanliness requirements. There are hardly any ISO 3 and 4 installations. Typically, food processing outfits would opt for ISO 5 and 6 cleanrooms. Only a few food cleanrooms use ISO 5 and in such cases, they are usually used in small areas such as filling lines.
Cleanrooms Are The Future Of Food Processing
Any environment where food is being handled or manufactured must be contaminant free at all times. At Saakvee, we offer you everything that you will need to ensure your food manufacturing processes are clean and safe.
If you have any inquiries or are ready to get started on your next cleanroom project, please contact our team.