What Is DOP Testing?
DOP testing is the process where the integrity of your High Efficiency Particulate Air (HEPA) filter is tested by introducing Dispersed Oil Particulate (DOP). The filters are used in industrial equipment items such as fume hoods, negative air units and powerful vacuums. They protect the environment and humans from harmful substances in the air such as asbestos, bacteria and hormones by filtering out 99.97% of particulates, up to 0.3 microns in size.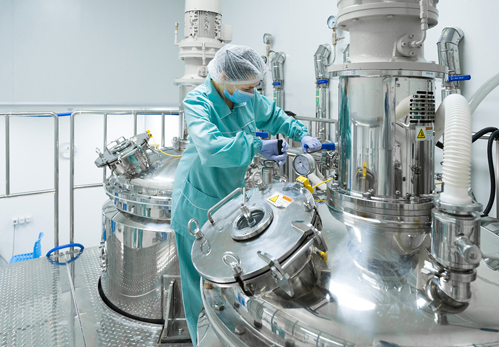 The HEPA filter works within your specialist ventilation system to remove dust and fine powder from the environment and provide clean air that is particulate-free. A DOP filter determines if the filters are performing up to the standards set by regulatory bodies to ensure smooth operations.
Oil is dispersed as an aerosol into the filter mediums' upstream flow. In the downstream flow, the number of particles is measured with a calibrated photometer. Due to the fact that cleanrooms often protect mission critical environments, DOP testing is essential. The entire filter face is tested to detect leak or damage.
Modular Cleanroom Benefits
Modular Construction

Quick Assembly Time

Versatility

Reconfiguration

Airflow Control

Inexpensive Modifications
Filters that fall outside the specified efficiency standards of 99.9995% at 0.12 micron for UPLA filters and 99.99% at 0.3 microns for HEPA filters will be replaced by an experienced engineer from Saakvee Technologies. This is how we reduce downtime in your cleanroom to a minimum and ensure business operations resume as quickly as possible.
In the past, Di-Octyl Phthalate was used in DOP tests but Poly Alpha Olefin, a non-carcinogenic liquid is now preferred due to rising concerns about carcinogenic properties in the former. Hence, DOP is often interchanged with poly-alpha olefin (PAO) tests. Other liquids used include DEHS and paraffin oil.
DOP filter testing provides assurances for all parts of the filter including the filter housing, the seals and the joints. A check will be made during the test to determine if the air in the cleanroom successfully passes through the filter.
DOP testing for your specialised ventilation system will be carried by qualified engineers from Saakvee Technologies. DOP testing requires a full understanding of PD6609:2007, BS EN ISO 14644-3 (B.6), GMP (Good Manufacturing Practice) and expertise to address identified leakages in the ventilation system.
Cleanroom Design, Build & Validation
Budgeting and planning

Engineering, design & layout

Airflow and filtration design

Construction and Installation

Full Certification of our product

Industry-specific equipment installation

Validation
How Often Should You Test Your HEPA Equipment?
HEPA filters are used to provide clean air for cleanrooms in industries such as pharmaceuticals, biotechnology, medical devices, semiconductor, manufacturing and nuclear technology. Multiple pleated layers of filter media player are used in the construction of the HEPA filter. It prevents particles from getting past the filter. Instead, they stick to the filter fibres after becoming trapped. An annual output test is conducted to ensure that aerosol meets distribution criteria. The photometer measures the concentration of the upstream aerosol and downstream penetration of the HEPA filter.
The equipment should be tested whenever it is moved to ensure no damage was done whilst in transport or at intervals. When the filters are replaced, vacuum cleaners with HEPA filters will be tested. They should be tested at least once a year if used occasionally.
Modular Cleanroom Services
DOP Filter Testing Equipment
Aerosol Photometer
Saakvee Technologies uses an innovative, advanced and digital aerosol photometer to to perform DOP tests. We have portable DOP testing machines guaranteed to maximise efficiency and minimise downtime.
The photometer measures the amount of aerosol downstream and upstream of the filter. The result shows the performance of the HEPA filter. It also reveals damages or leaks in the seals, frame and mediums.
Aerosol Generator
The generator is used to produce aerosol which is introduced to the airstream and passed to the HEPA filter for testing. An ancillary equipment is used to inject, mix and test the aerosol such as injection ports, positive injection pumps, sample ports, sparge pipes and scanning probes.
Our aerosol generators are lightweight, portable and rugged. They are ideal for testing different filter systems by generating sub-micron, poly-dispersed aerosol. Applications include negative-pressure filtration units, workstations, ceiling modules, biological safety cabinets and more.
When To Do A DOP Test
Equipment with HEPA filter should be tested when it will be used for a new project or moved. Filter seals could become loose due to ill use, causing leaks and making the equipment unsafe for workers.
For the same project, it should be tested every four weeks and onsite for best results. This ensures the HEPA filter units have not been damaged by daily onsite activities or during transportation.
Why Have A DOP Test?
Without a DOP test, there is a high risk of contamination to your cleanroom. It could impact your product quality and processes which in turn affect your cleanroom certification. A DOP test saves money, time, reduces cost product recalls and prevents damage to your brand.
Saakvee Technologies has CTCB certified engineers who have had at least 5 years of experience before sitting the certification exam.
Cleanroom Industries/Sectors
How Is DOP Testing Carried Out?
DOP filter testing follows a compliant and predetermined process. The first step is the visual inspection of the equipment with the HEPA filters to check for holes, cracks, leaks and other issues.
We also inspect the air supply system to identify the safest means of injection. Power to the AHU is isolated if the secondary and pre-filters will be removed. A blower pump is set up near the injection point if the DOP will be injected in a positive pressure section or downstream of the fan unit.
A DOP testing equipment is prepared after the equipment is switched on. We use either a pneumatic or thermal aerosol generator. The aerosol photometer is set up according to the manufacturer's instruction and attached to fitted upstream and sample points of each HEPA filter.
A lead engineer and support engineer work with the lead engineer operating the photometer to ensure regular communication and the support engineer controlling the smoke generator with a mobile phone or site radio.
A dense cloud of aerosol particles is released into the upstream airflow. A photometer is used to scan the seal and media face of the filters to check for leakage. Depending on the applicable standard, the maximum permissible leak is 0.01% or 0.03%.
The test is quick and confirms that all parts of the HEPA filter including the joints and actual filter media, seals, joints and housing are working properly. Problematic parts are replaced once identified.