Windows play an important role in ensuring the cleanliness of any cleanroom. It's of great importance that all outlets, entryways and openings in the cleanroom are always secure.
Saakvee offers a range of cleanroom windows, from semi-flush round corner windows to fully flush rectangular shape windows. Some of the cleanroom windows we offer can be hermetically sealed and coated. Our standard window units will naturally blend in with your cleanroom design.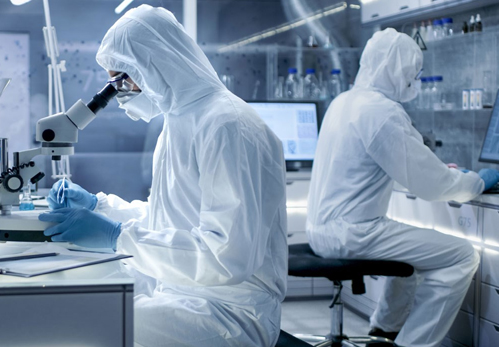 Modular Cleanroom Benefits
Modular Construction

Quick Assembly Time

Versatility

Reconfiguration

Airflow Control

Inexpensive Modifications
Types Of Cleanroom Windows Offered By Saakvee
Bevelled Window
Bevelled windows are designed only for use in cleanrooms. This design removes corners that collect particles, microorganisms and dust. There is no ledge, which makes it easier to clean. It is often preferred as a cost-effective alternative to double flush windows, which require different pieces of glass. Bevelled windows are FDA compliant.
Flush-Mounted Windows
Options include semi-flush mount window and fully-flush mount window. If your cleanroom doesn't have a stringent classification, a semi-flush window is the economical solution. It is easy to clean and doesn't attract particles.
The fully-flush window is also easy to clean. There are no edges or corners, so it doesn't accumulate micro-organisms or dust particles. Available window shapes include round corners, square window, teardrop window and full-length window panel.
Cleanroom Design, Build & Validation
Budgeting and planning

Engineering, design & layout

Airflow and filtration design

Construction and Installation

Full Certification of our product

Industry-specific equipment installation

Validation
Transaction Windows
The model for cleanrooms is the BioSafe Transaction Window. It is ideal for cleanrooms, laboratories and aseptic facilities.  The design of this window ensures the safe transfer of materials inside and outside of the cleanroom, whilst minimising microbial growth. Employees on either side of the window have full visibility of any items being transferred.
Flush Window
For a complete flush surface, the flush window is mounted into the wall system. Windows can be integrated into return air walls to reduce airflow disruption. Double flush glazing or insulated glass units can be incorporated into most designs.
Modular Cleanroom Services
Double Flush Window
Double flush windows provide two flush surfaces for interior wall applications that require flush surfaces on either side of the wall.
Switch Glass Privacy Window
Switch glass privacy windows are ideal for viewing sensitive operations inside a manufacturing cleanroom. They are mostly used in aerospace, medical and pharmaceutical cleanrooms and feature laminated glass panels with tempered glass.
It is an energy-saving option that allows personnel to alternate between viewing privacy panels and windows in a host of government, research and industrial applications.
Cleanroom Industries/Sectors
Observation Port
An observation port is a small window that provides views into controlled environments, such as a cleanroom. It turns a glove port into a customised, sealed window. The port is flexible and can be easily modified as work processes evolve.
Compared to other wall penetrations, an observation port is easy to install and doesn't require special construction adhesives, framing, sealants or welding.
Our Glazing Options
Acrylic

UV

Lexan

Double glazing

Static dissipative

Laser glass

Tinted glass

Tempered glass

Film covered glass
Get Started By Calling Us Today
If you're unsure, our cleanroom specialists at Saakvee can help you choose the right type of windows that best suit your cleanroom operations.