Modular cleanrooms are portable, freestanding structures that can withstand the high volume of airflow required to achieve ISO classified, ultra-clean environments. Unlike cleanrooms in a fixed, permanent position, modular cleanrooms are mobile cleanrooms which can be extended or relocated. saakvee is a leading manufacturer of high-quality modular and portable cleanrooms.
Our modular cleanrooms create secure environments which protect processes from harmful airborne contamination, thereby reducing failure rates. We can manufacture a cleanroom of any size you require, and which can be installed around existing machinery. We offer an economical approach to your cleanroom needs and strive to supply the most cost-effective products. No matter what your cleanroom needs are, whether it is to add to or upgrade an existing room, build an entirely new room, install a single cleanroom component or set up a portable softwall, we are able to deliver services that meet all of your requirements.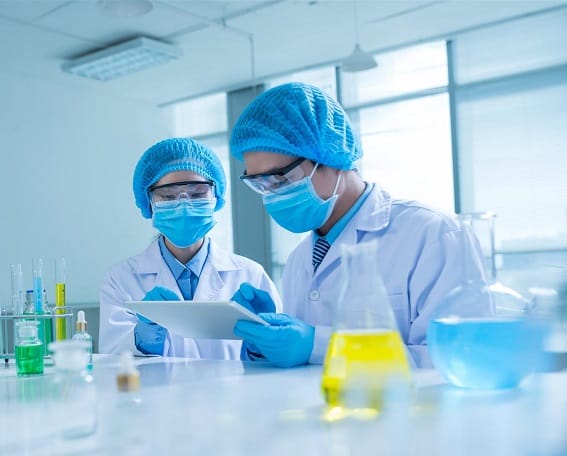 We design and manufacture modular wall and deck systems, fan cabinets and control and monitoring panels. Our goal at Saakvee is to assist our clients in protecting their critical environments through innovative modular cleanroom designs.
Modular Cleanroom Benefits
Modular Construction

Quick Assembly Time

Versatility

Reconfiguration

Airflow Control

Inexpensive Modifications
Industries For Which We Provide Modular Cleanrooms
At Saakvee, your contamination control requirements are our priority. We are one of the leaders in design and installation of a wide range of cleanrooms, including modular, monobloc, hardwall, and softwall cleanrooms that meet international standards for different industries. We employ innovative methods and will meet any cleanroom specification.
Our extensive products and services have allowed us to work within a wide range of industries including:
Micro-electronics
Pharmaceuticals
Medical devices
Breweries
Food and beverage
Research institutes
Universities
Healthcare
Biotechnology
Manufacturing
Nanotechnology
Cosmetics
Plastic Mould injections
Optic and Laser
Automotive
Military, Defence and Police
Aerospace
Cleanroom Design, Build & Validation
Budgeting and planning

Engineering, design & layout

Airflow and filtration design

Construction and Installation

Full Certification of our product

Industry-specific equipment installation

Validation
How Our Modular Cleanrooms Work
Modular cleanrooms can be relocated or extended to fit specific conditions. They are largely used in fields that have high sensitivity to environmental contamination. Ultra-low particulate air (ULPA) and or high-efficiency particulate air (HEPA) filters are used to constantly recirculate the air inside a cleanroom, with external air which is introduced into the room also going through a filtering process to remove contaminants.
The level of particles inside a cleanroom is normally tested using a particle counter while certain environmental methods are used for counting and detecting microorganisms. Positive pressure is maintained in modular cleanrooms so that air will be passed out of the chamber if any leaks occur. Particle counters for air and gas are crucial for the cleanroom industry. Saakvee, our team manufactures technology that counts the number of particles in the air, and then calculates the results accordingly.
By so doing, we measure the cleanliness levels of cleanroom and controlled environments for sensitivity and contamination analysis. PPC (particles per cubic metre) is a measurement of the level of pollutant contamination within the environment and cleanrooms are designed to maintain an acceptable level of contamination. The cleanliness level of cleanrooms is usually quantified at a predetermined measure of molecule per cubic metre.
We provide modular cleanrooms that are impervious to liquids and chemicals, are resistant to impact, minimise the level of airborne particles, facilitate easy clean-up of bio-hazardous material and mitigate the potential for bacterial growth. We also offer an extensive range of particle counters that will meet your needs in air monitoring as well as a range of instrumentation for Airborne Particle Counting, Cleanroom Monitoring, and Particle Monitoring Systems–all of which are ISO21501-4 and ISO16444 compatible.
Modular Cleanroom Services
Features Of Our Modular Cleanrooms
At Saakvee, we offer seamless epoxy coated cleanroom walls with coved flooring to handle more robust wall cleaning or disinfectant procedures. Flush fitting, factory installed windows and utilities enhance cleaning. Our prefabricated, modular wall and deck systems are designed to provide rapid, clean installation. These modular cleanrooms feature an aesthetic appearance and long term flexibility to change with your process requirements.
The load-bearing, double wall design, modular top deck panels and sealed negative pressure plenum assure optimum performance and longevity. Other key features of our modular cleanrooms include:
HEPA and ULPA filters
Fan filter units, standard and RSR
Air showers
GMP accredited
ISO 4-9, ISO14644
Low power consumption
Environmentally friendly
Air filtration
Cleanroom ceiling system
Access control
Inter-lock door systems
Temperature control
Unidirectional airflow
Horizontal flow wall modules
Horizontal laminar flow clean benches
Laminar flow cabinets
Laminar flow canopy
ACS2000 power saver, ACS3000 room monitoring system: T/RH/Air pressure
Basic Requirements For Modular Cleanrooms
All equipment used in a cleanroom as well as other necessary materials are designed to have low capability for environmental contamination. Only designated buckets and mops are used in a cleanroom. Common materials such as fabrics, pencils, and paper produced from natural fibres are excluded and substitutes are used. Some of the things to keep in mind especially for the personnel in charge of a modular cleanroom are:
Monobloc Cleanrooms meet the highest ISO and EU GMP Quality standards required for Class 3-9 Cleanrooms worldwide
Proper attire and dressing anteroom
Regulating the storage of glassware and containers
Preventing or controlling the cutting, tearing or storage of cardboard, debris, etc.
Cleaning the room and production equipment per written procedure
Cleaning of work surfaces and chairs
Selecting correct furniture and eliminating all nonessential equipment
Controlling room air quality (amount of particulates, pressure, velocity, and exchange rate)
Eliminating electrostatic charges by controlling work surface composition or grounding
Ensuring cleanliness of raw materials, components and tools
Controlling the purity, sterility, and non­pyrogenicity of process water
Maintaining profilers, HEPA filters, and electrostatic precipitators.
Controlling the use of, and entry into, controlled areas
Prohibiting eating, drinking, smoking, or gum chewing
Preventing use of lead pencils



Benefits Of Modular Cleanrooms
Generally, modular cleanrooms have superior performance and durability when compared to fixed cleanrooms. In spite of this, they cost considerably less than a traditional build cleanroom. They can be installed quickly and efficiently with minimum on-site disruption and most of all, they can be easily modified for expansion or changing needs.
At Total Clean Air, we manufacture and install standard modular cleanrooms that meet particle counts according to International Standard ISO 14644-1. We ensure they are tailored to your requirements and designed and built to suit your process. Other benefits of modular cleanrooms include:
Portability
Modular, free-standing cleanrooms have many distinct advantages over their fixed wall counterparts. Modular rooms greatly reduce design, engineering, and construction time, thereby reducing costs. Since they are not an integral part of a larger structure, modular rooms can be taken down and moved to other facilities, or even sold as assets. Fixed wall cleanrooms do not have this flexibility.
Construction Time
The amount of time it takes to construct a modular room is much less than constructing a permanent walled structure. It can take several months to construct a fixed wall cleanroom because of the design. However, a fairly sophisticated modular room can be constructed in weeks. Onsite assembly of a modular cleanroom is also less disruptive to surrounding operations in comparison to their fixed wall counterparts.
Expansion
Expanding a modular cleanroom can be easily accomplished by taking off a wall and adding another module. The prefabricated design allows the room to be expanded, relocated, or reconfigured into a different shape or made into multiple smaller rooms. All air handling and filtration equipment modules are built into the modular room ceiling. Hook-ups for electrical and plumbing are engineered in as part of the design.
Tax Rebate
Modular cleanroom systems offer potential tax advantages for businesses. They are not typically considered part of the building and can often be depreciated faster than built-in, fixed wall cleanrooms. Tax consultants can provide specific tax advantage information.
Cleanroom Industries/Sectors
Contact Us For A Customised Modular Cleanroom
Whether you are searching for a new cleanroom, an update to your existing facility, mechanical upgrades, tighter temperature or humidity specifications, control and monitoring and alarm panels or cleanroom components and accessories, let us manage the many details.
Our proven expertise, CTCB certified engineers and ISO classified controlled environments are available to protect your critical processes and add value to your operations.
Your cleanroom is necessary for the protection of your critical processes and environments. We can help ensure this by providing pneumatic filter installation that guarantees filter integrity and efficiency. Our services are ISO 14001, ISO 9001 and OHSAS 18001 accredited.