Monobloc Cleanrooms are made in a single piece, rather than being fabricated from components. Monobloc Cleanroom systems feature flush-fitting wall panels for reduced particle retention and superior load bearing capacity. They are leading in thermal performance, superior fire protection and enhanced environmental credentials for your Cleanroom. This system is perfect for projects which need to adhere to GMP guidelines.
Monobloc panels are otherwise known as the true Cleanroom panel. They help to achieve a flush finish Cleanroom system. Each panel is pre-engineered to the correct size and interlocked during installation for a clean and efficient on-site assembly.
At Saakvee Technologies, we are the leaders in monobloc Cleanroom construction services. We offer an integrated approach from planning through to implementation, providing all the services and approved products necessary to deliver controlled environment solutions. With a range of proprietary features such as raceway trunking to supply services, flush glazing, doors, wall and ceiling panels, we offer custom solutions for a variety of Cleanroom applications.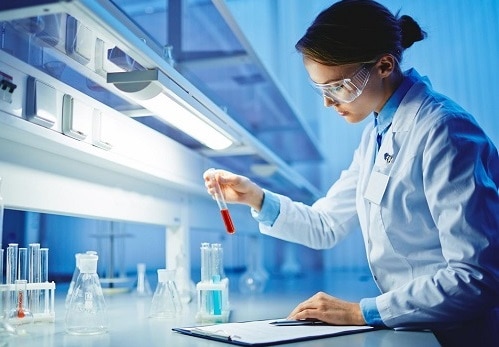 We have a reputation for quality workmanship and construct monobloc Cleanrooms in facilities anywhere in the UK with excellent maintenance reliability, energy efficiency, and overall value. With lightweight construction and walk-on ceilings, our monobloc Cleanrooms are exceptionally durable.
Modular Cleanroom Benefits
Modular Construction

Quick Assembly Time

Versatility

Reconfiguration

Airflow Control

Inexpensive Modifications
Manufacture, Design And Installation Of Monobloc Cleanrooms
At Total Clean Air, we specialise in the construction, design and installation of custom monobloc Cleanrooms. The design and construction of a typical monobloc Cleanroom centres on first selecting the most suitable partition system.
A Monobloc Partition system allows for flushed-in service points with connections routed and concealed within cavity. It can also provide access to fully exposed integral services from the 'dirty side' without compromising validation of the room. Smooth-faced walk-on ceiling panels supported from structural steelwork are offered, where access is provided to mechanical and electrical services from the 'dirty side'. A range of floor coverings to suit project specific applications are also provided.
In monobloc Cleanrooms, all individual panels are fully demountable, giving you the flexibility to move to a new location. Also, the partitions can be multi-tiered and profiled for warehouse and office divisions in specialised areas. A monobloc panel system can be designed as an extension to an existing Cleanroom. Monobloc panels can also be pre-decorated to your choice of vinyl or melamine finish.
At Saakvee Technologies, we cater to diverse industry segments, offering them Cleanroom solutions from inception of enclosures and interface with HVAC, electrical and civil vendors at the design stage itself. We also deal in the manufacturing of Cleanroom Panels and Prefabricated Cleanrooms.
Cleanroom Design, Build & Validation
Budgeting and planning

Engineering, design & layout

Airflow and filtration design

Construction and Installation

Full Certification of our product

Industry-specific equipment installation

Validation
Our Approach To Constructing State-Of-The-Art Monobloc Cleanrooms
Saakvee Technologies is a leader in Cleanroom design and construction for various industries and facilities all over the UK. We are aware that constructing and installing standard monobloc Cleanrooms requires more than just understanding the technologies involved. It requires a unique approach, working as a part of a team with architectural and engineering firms, as well as construction managers and general contractors.
We understand what it takes to deliver successful Cleanroom projects that fit your requirements and budget. Furthermore, we are adept at executing successful projects, regardless of industry. Our In-house staff are experienced in designing and constructing new facilities, retrofitting monobloc Cleanrooms into existing buildings, and the renovation or expansion of current monobloc Cleanrooms. Our monobloc Cleanrooms are designed to precision specifications and are capable of operating in accordance within strict industry practices.
At Saakvee Technologies, we focus on enhanced quality controls for optimum productivity. Our team always aims to go above and beyond the minimum to ensure the utmost care is provided – especially when dealing with your delicate and complex manufacturing needs. Various advancements in Cleanroom technology currently exist and are available to reduce contamination risk and improve process control in an active Cleanroom environment.
Modular Cleanroom Services
Standards Required Of Monobloc Cleanrooms
Cleanrooms are classified by the cleanliness of the air within. They need to be very sterile environments and require a high level of air quality. Monobloc Cleanrooms are utilised in the pharmaceutical, electronic and semi-conductor industries; all are industries where even the tiniest micron of dust or gas molecules can cause extreme damage.
In a monobloc Cleanroom (just like other types of Cleanrooms), particulate and molecular contamination control is crucial. It has a controlled level of contamination that is determined by the number of particles per cubic metre at a specified particle size. The primary authority for Cleanroom classifications is the International Standards Organisations (ISO), which ranks classifications from ISO 1-10, based on the number of particles within a specified area.
At Saakvee Technologies , we offer a wide range of HEPA air filters and air filtration systems for a variety of contamination control applications for monobloc Cleanroom environments. Our Cleanroom specialists will create and design an air filtration system with premium HEPA filters and effective air filtration systems to ensure your monobloc Cleanroom operates with the most advanced equipment available in the industry.
Maintaining the integrity of a secure environment to ensure continued effective performance of a Cleanroom will require validations to be performed at process-dependent intervals. This will prove the Cleanroom environment is compliant with ISO 14644-1:2015, which covers the classification of air cleanliness according to particle concentration.
Features Of Our Monobloc Cleanrooms
At Saakvee, our services include the incorporation of all components based on your requirements, including a comprehensive line of innovative walls, windows, doors, grills, ceiling systems, HEPA modules and housings, air showers, curtains and raised access floors. We also provide Cleanroom certification and validation, offering a complete Design and Build package to form walls, ceiling and flooring, along with associated mechanical and electrical services. Features of our monobloc Cleanrooms include:
Interlocking panels
Walk-on Ceilings
Smooth Walls and Windows
Interlocking doors
Economic and Efficient Air filtration
Power Controls and Lighting
Benches
Conveyors
Flooring
Static Safe Containers
Bench Tops
Stainless Steel Furniture
Semi-flush and fully flush window options and integrations
Flush wall and ceiling panels
Single leaf, double leaf, sliding door and interlocking system options
Ceiling suspension systems
Flooring options (including coved)
Steel-skinned hinges
Sliding doors and rapid roller door
Powder-coated and coil-coated steel sheet surfaces (in any colour of choice)
Flexible and easily displaceable partition system
Simple and quick installation



Advantages Of Monobloc Cleanrooms
At Saakvee , we create contaminant-free environments using our monobloc Cleanrooms, so that critical processes relative to multiple sciences and technologies can be conducted. Some of the advantages of monobloc Cleanrooms include:
Monobloc Cleanrooms meet the highest ISO and EU GMP Quality standards required for Class 3-9 Cleanrooms worldwide
Because they are pre-engineered off site, this ensures quicker installation times
Installation of monobloc Cleanrooms is simple and fast
The construction is solid and conductive with walk-on ceilings
It offers consistency in quality and design that complies with the client's needs, without compromising on regulatory requirements
The partition system is flexible and easily displaceable
The tight joint lines achieve a flush finish
It is designed to easily integrate all Cleanroom components
Monobloc Cleanrooms are ideal for all sizes of Cleanrooms
They can be built to exact specifications
Easy installation of various media lines in the junction area
It involves a clean build, eliminating dust generated using non-shedding and non-participating material
Cleanroom Industries/Sectors
Sectors For Which We Provide Monobloc Cleanrooms
At Saakvee, your contamination control requirements are our priority. We are one of the leaders in designing and installing a wide range of customised Cleanrooms that meet the highest international standards for diverse sectors. We employ innovative methods and pride ourselves in meeting any Cleanroom specification, regardless of size or shape.
The needs for Cleanrooms are many and varied; suffice to say, we are pleased to have a long and successful history in such an arena. Our extensive products and services have allowed us to provide monobloc Cleanrooms to a wide range of industries, such as the following:
Electronics
Engineering
Laboratory
Energy
Healthcare
Micro-Electronics
Pharmaceuticals
Medical Device
Breweries
Food and beverage
Research institutes
Universities
Health Care
Biotechnology
Manufacturing
Nanotechnology
Cosmetics
Plastic Mould injections
Optic and Laser
Automotive
Military, Defence and Police
Aerospace
Saakvee For A Guaranteed Secure Environment For Your Critical Processes.
At saakvee, we employ innovative methods and pride ourselves in constructing state-of-the-art monobloc Cleanrooms, regardless of size or shape.
Upon your request, we can provide our experienced CTCB-i certified engineers and ISO classified controlled environments for your UK facility to protect critical processes and add value to your operations, irrespective of industry. We deliver on time and budget at very competitive prices.